Committed to the old-world craftsmanship standards set over six decades ago
The Stilewood of today has not forgotten the company's origins – founded by Vittorio Ciccone, who began his training in millwork over 60 years ago, in a small town just off the coast of Southern Italy.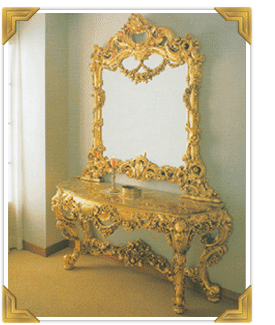 At a very young age, Vittorio learned and developed the skills and passion for traditional architectural woodworking. His mastery became legendary throughout Italy where, to this day, his work is enjoyed by Italians and tourists who visit the churches and buildings where his timeless work still stands.
Buoyed by his youth and entrepreneurial spirit, Vittorio emigrated from Italy to Canada, where he soon built a reputation as a millwork artisan, and an authority the reproduction of such period styles as Baroque, Rococo, Renaissance and Louis XV.
His reputation for quality craftsmanship and traditional wood artistry attracted designers from all over the world, who called upon him to reproduce period furniture and millwork items for high-end homes, villas and movie sets.
In the early 1960s, this demand and market niche launched Vittorio into high-end furniture design and into the manufacturing business that would eventually grow to have customers throughout North America, Europe and Asia.
Re-setting the sails
After successfully navigating his company through the turbulent trade winds of the 60s, 70s and early 80s, Vittorio noticed a shift in market demand from his traditionally designed and manufactured pieces to the more trendy art-deco/art-nouveau/knock-down styles that came with the baby boom. With this in mind, Stilewood began changing its direction and focus to the building materials industry.
Through the skills, production processes and plant set-ups Vittorio was so skilled in, Stilewood quickly found itself providing an exclusive line of French doors to the largest millwork distributors in North America. The success of this single product line and the critical acclaim received for their use of cutting-edge construction techniques led to the 1988 incorporation and launch of a new company, Stilewood International Mfg. Ltd.
Combining old world hand-craftsmanship with latest in state-of-the-art equipment
Today, Stilewood is an artisanal millworking company located in Port Coquitlam, BC. It specializes in producing architectural stile and rail doors for both interior and exterior applications, in a production facility equipped with over 150 dedicated machine centers modeled after the finest joinery operations in Europe.
By bringing together Old World hand-craftsmanship and the latest in state-of-the-art equipment, Stilewood has been able to re-define the term quality with every door they build. This re-definition has spawned revolutionary proprietary technologies for almost every stage in manufacturing of stile and rail doors. That includes Stilewood's exclusive "Fluted Tenon" technology and their linear serrated edge, "Panel Smart" technology.
Simply the finest wood doors in the market
Advances such as these give Stilewood the ability to build a door that will virtually never warp, split, crack or separate at the stiles. Couple all this with the artistry, attention to detail and eye for beauty that has been passed down by Vittorio, and the result could be described as "fine furniture for your walls."
Stilewood's market is global. Its main marketing message can be summed up as "Any Style, Any Size, Any Species." This marketing philosophy is all about choices that enable the design community to design by creative imagination, rather than by product availability.
Stilewood's approach, combined with its creative technical experts, means renowned architects and designers, worldwide, continue to specify Stilewood products for their most prestigious projects.
The future is in good hands
Vittorio may be retired from the door business, but his legacy lives on in the facility he created and the artisans he helped to train – many of whom share the same vision and values that guided Vittorio through more than 30 years of business operations.
Thank you, Vittorio. We will always live up to the standards you set.
Powered By